Our Technology
Truelite Integrated Battery Bank System
LFP Chemistry:
Truelite adopts and use LFP, LiFePO4 battery chemistry for all our integrated battery banks. Our LFP battery banks are designed with inbuilt BMS (Battery Management System) for protection and charging and discharging functions ensure maximum efficiency energy storage for our lighting applications. Truelite uses Class A LiFePO4 cells from tier 1 manufacturers, integrated into luminaire heads in specially made well-crafted insulated battery boxes with proper heat dissipation and breathing mechanisms. The battery bank units can be replaced as well.
Depth of Discharge (DOD)
:
Truelite LFP battery banks are designed for our application specific functioning in terms of built, placement of the banks, Chemistry and Depth of Discharge (DOD) suitable for extreme weather conditions. LFP banks are tested to the utmost UL standards and being in our product lines practically tested in all weather conditions globally. We have DOD less than 50% with 2 days of autonomy as standard throughout our products.
Certifications and Standards:
Our LFP banks are manufactured and tested to the electrical and safety requirements relevant to European and North American Standards – MSDS, CE, RoHS and UL.
Placement of Battery Banks:
Why Inside the Luminaire Head? Truelite has designed luminaire heads with built in battery for our solar lighting applications from our decade of expertise in solar lighting projects. Truelite installed solar lighting for Governments, Infrastructure, aid and humanitarian clients in extreme weather conditions of GCC, Africa, Europe and North America where the temperature coefficient plays a vital role in the efficiency and life of the banks. Thanks to our R&D team working with these extreme projects found the best place for the battery banks for the durability and efficiency is inside the luminaire head for multiple reasons.
Advantages Integrated Battery Bank System


Zero Voltage drop saving energy and efficiency of the battery bank and the system.


Integration of the electronics in one place makes the integration maximize the system efficiency.


Built in unique battery compartment part of mold design placed in the IP67 diecast aluminum body for the easy replacement.


Compact product built, saves on extra cabling, complicated wiring to the controller and the luminaire head from battery banks if placed elsewhere.


Easy deployment and installation as the system is functional with 1 MC4 plugin to the PV source.


Cost Savings, on associated civil works of underground battery boxes saving cost of installation and time leads to less project turnaround time.




Protection from bad weather, flood, mud, dusts, corrosion of the terminals in underground battery boxes makes these systems call for high maintenance.


Complete vandal proof built. since the batteries are built inside the luminaire head, safe and secured and cannot be open with a normal tooling prevents the battery being stolen while deployment in remote areas.


Unmatched 5 Years Warranty with optional extended warranty with a design life of 10 years 4000 Cycles with 50% DOD Design.


Battery health monitoring is integrated with RF handheld device for easy troubleshooting and maintenance.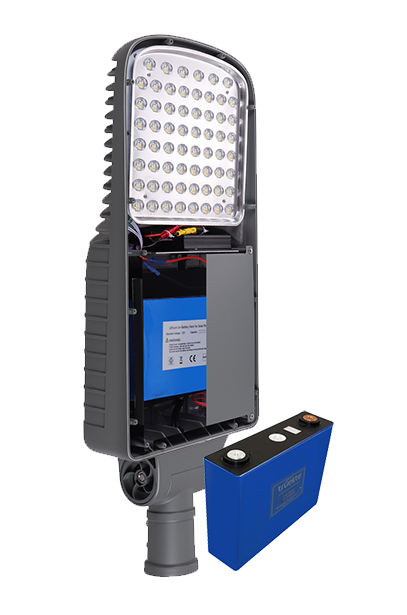 For BMS – battery management and battery specific questions about your projects –please write to techsupport@truelite.us
---
Internet of Things (IoT) Street Light Management System
Truelite offers advanced IoT-based Solar Streetlights for effective communication and smart monitoring of the lights.  The module is equipped with an automated streetlight management system to conserve energy by reducing light pollution & CO2 emissions, reducing manpower, and providing electricity & maintenance cost savings & thereby improving general wellbeing. It enables the streetlight luminaires connected to be remotely controlled & monitored through a centralized online application. IoT-based Solar Streetlights are becoming an essential feature for many cities around the world and are expected to gain momentum over the coming years.
Truelite,
being a research-oriented organization employs innovative technology & offers IoT Solar Streetlight Management System. The system consists of an IoT Solar controller, wireless communication module, cloud server & client (mobile app, WEB Terminal).
Solar Controller collects the system input data of panel, battery, and LED Load (current, voltage, temperature, power generation/consumption, etc.) & transmits the data to the communication module through the interface. The wireless communication module acts as a bridge between the controller & the cloud platform. Cloud server does system scheduling, data storage/processing & logical transaction processing. Users can view the cloud service's data through the client, control the light switching & adjust the street light parameters through the server.
Features


Tracking efficiency is higher with fast operation with MPPT power tracking technology.


 Battery health and operating parameters can be monitored and set.


Works under Ultra Green Power Consumption Control Technology.


Programmable load with power/time control.


Intelligent power modes with adaptive lighting for higher energy savings, automatically adjust the load power according to the battery power.


Wireless communication enables set, reading parameters, monitoring status, etc.


Multiple protection functions for batteries, luminaires, controllers, and PV.